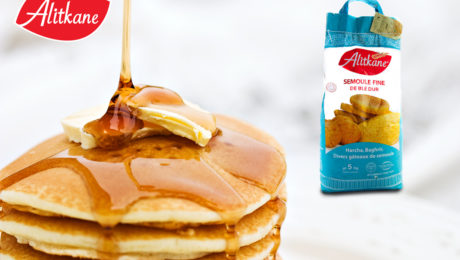 Pancakes with fine semolina Alitkane
Ingredients /  for 4 persons
1 glass of flour
2 glasses of fine semolina Alitkane
1 tablespoon baker's yeast
1/2 teaspoon of salt
1 sachet of baking powder
4 glasses of warm water
In a blender put the glass of flour, the 2 glasses of fine semolina Alitkane, baker's yeast, the bag of baking powder and salt.
Add 4 glasses of warm water and mix for 2 minutes.
Put the mixture in a salad bowl, cover with a cloth and let it rest for 20 minutes.
Once the dough is up, heat a pan. Take a paper towel with some oil on top and pass it on the pan.
Pour a ladle of dough into the pan and cook on one side only. The pancake is cooked when all the holes have formed and the underside is golden.  Above all, do not stack them on top of each other.